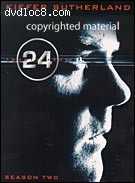 Audio Track(s):





Subtitle Track(s):




text list of languages below
hover mouse over flags to see language names




Number of people who have this disc in their collection: 37

















Synopsis: Oh boy. Here we go again! Just another exciting day in the life of 24 super-agent Jack Bauer (Kiefer Sutherland). The season kicks off with a deadly terrorist strike resulting in the kidnapping of his new boss, the U.S. Secretary of Defense James Heller (William Devane). Although a fired, ex-employee of the Counter Terrorist Unit (CTU), it is no surprise who is going to shift into full gear to bring the terrorists to justice. However, it doesn't take the super-agent long to discover the kidnapping of his boss is part of a much larger plan, master-minded by Habib Marvan (Arnold Voslo) the middle eastern terrorist cell leader the US government has been trying to track down for years.

User Rating:










(1 vote) (More Details and Cast Your Vote)





There are 12 editions of this movie (including the current edition) in the current region (region 1)
There are 15 additional editions of this movie in other regions

view/compare editions






1:
Single Sided, Single Layer
2:
Single Sided, Single Layer
3:
Single Sided, Single Layer
4:
Single Sided, Single Layer
5:
Single Sided, Single Layer
6:
Single Sided, Single Layer
7:
Single Sided, Single Layer
1:
English
2:
Spanish (Espanol)


English, Spanish (Espanol)







Write a Review and Rate this disc
A great review from Mitch Weaver











arizona1121, United States of America (Reviewer Ranking: 1) wrote this review on December 24, 2005:

Jack Bauer ( Kiefer Sutherland) is still recovering from the death of his wife and the events that took place in season 1. He no longer works for the CTU, and he is trying to move on with his life by rebuilding a solid relationship with his daughter Kim (Elisha Cuthbert). Unfortunately, a terrorist threat has been announced, and over the course of the next 24 hours, a nuclear bomb is going to be detonated in Los Angeles. David Palmer ( Dennis Hayworth) is now president, and is faced with the challenge of containing the threat. The only person Palmer can turn to is obviously Jack Bauer- the man who saved his life. Now Jack must become the man he once was, and find out who is behind the nuclear bomb before it is too late...
I was originally very skeptical when it came to season 2 of Fox's ground-breaking show "24". Season 1 had incredible acting, nail-biting suspense, and a totally original format of airing each episode as an hour over the course of one day. I figured there was no way that FOX could pull off a second season that even came close. However, the show managed to become even better for season 2. The plot behind season 2 really hits home because of the events of 9/11. Another thing that was great, was the fact that season 2 managed to build off of the previous season when it came to the characters. Even though season 1 was based on a different set of events, the emotional fall out from that day is carried over into season 2, because of how great the acting was. Kiefer Sutherland, Dennis Hayworth, Elisha Cuthbert, Carlos Bernard ( Tony Almeida), Sarah Clarke ( Nina Myers), and Penny Johnson ( Sherry Palmer) are all back and are all fantastic. In fact, it was one of the most well rounded performances from a cast I have ever seen.

The second season was even better than the first season in my opinion. However, the show was not the only thing that improved. The DVD itself took a complete 180 when it came to the special features that were offered. The first season DVD set did not really have any special features at all, or even any scene selection. The second time around, FOX made sure to correct their mistake. First of all, there is actually scene selection. You do not have to manually skip through the whole episode just to find a particular scene. The special features are great as well. The show itself fits over six discs. However, a seventh disc was created that contains nothing but extras. There are 44 deleted scenes, three incredible featuretes, and much more. If you were a fan of the first season, there is definately no way you can afford to pass this up. A must buy!!




| | |
| --- | --- |
| Video Rating: | |
| Audio Rating: | |
| Extras Rating: | |
| Movie Rating: | |
| Overall Rating: | |


Do you agree with this review?
The movie information on this page was generously updated by:
* arizona1121 (Updated movie on December 24, 2005)
* Maglaras

The disc information on this page was generously updated by:
* arizona1121 (Updated disc on December 27, 2005)
* phat_tonyca