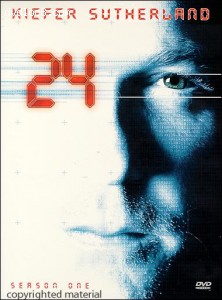 Audio Track(s):




Subtitle Track(s):





text list of languages below
hover mouse over flags to see language names




Number of people who have this disc in their collection: 38

















Synopsis: Oh boy. Here we go again! Just another exciting day in the life of 24 super-agent Jack Bauer (Kiefer Sutherland). The season kicks off with a deadly terrorist strike resulting in the kidnapping of his new boss, the U.S. Secretary of Defense James Heller (William Devane). Although a fired, ex-employee of the Counter Terrorist Unit (CTU), it is no surprise who is going to shift into full gear to bring the terrorists to justice. However, it doesn't take the super-agent long to discover the kidnapping of his boss is part of a much larger plan, master-minded by Habib Marvan (Arnold Voslo) the middle eastern terrorist cell leader the US government has been trying to track down for years.

User Rating:










(2 votes) (More Details and Cast Your Vote)





There are 12 editions of this movie (including the current edition) in the current region (region 1)
There are 15 additional editions of this movie in other regions

view/compare editions






1:
Single Sided, Dual Layer
2:
Single Sided, Single Layer
3:
Single Sided, Single Layer
4:
Single Sided, Single Layer
5:
Single Sided, Single Layer
6:
Single Sided, Single Layer
1:
English


English, Spanish (Espanol), English (Closed Caption)







Write a Review and Rate this disc
This is the longest day of Jack Bauer's life...











(2 out of 3 people agreed with this review)
arizona1121, United States of America (Reviewer Ranking: 1) wrote this review on December 24, 2005:

From start to finish, this series is a blockbuster. When Senator and Presidential candidate David Palmer's life is in jeopardy, the Counter Terrorist Unit goes to work. Enter Jack Bauer, head of CTU, to uncover the terrorist conspiracy to assassinate Senator Palmer. Every episode ends in a cliffhanger. This is the reason TV shows are better on DVD!


| | |
| --- | --- |
| Video Rating: | |
| Audio Rating: | |
| Extras Rating: | |
| Movie Rating: | |
| Overall Rating: | |


Do you agree with this review?
The movie information on this page was generously updated by:
* arizona1121 (Updated movie on December 24, 2005)
* Maglaras

The disc information on this page was generously updated by:
* arizona1121 (Updated disc on December 27, 2005)