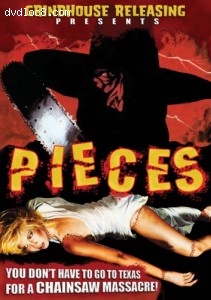 Audio Track(s):




Subtitle Track(s):



text list of languages below
hover mouse over flags to see language names


















Synopsis: This bloody slasher film from director Juan Piquer Simon concerns a chain-saw wielding madman who is roaming a college campus in search of human parts for a ghastly jigsaw puzzle. Stars Christopher George as a police Lieutenant and Lynda Day George as a police woman who goes undercover as a tennis instructor. Cult horror audiences will love this film that includes plenty of gore, unintentional humor and of course lots of gratuitous nudity.

Alternate Title(s): Mil Gritos Tiene La Noche

User Rating:










(1 vote) (More Details and Cast Your Vote)





There are 2 editions of this movie (including the current edition) in the current region (region Free)
There is 1 additional edition of this movie in other regions

view/compare editions






1:
Single Sided, Dual Layer
2:
Single Sided, Dual Layer
1:
English


English







Write a Review and Rate this disc
Exactly What You Think It Is











brandonearly, United States of America (Reviewer Ranking: 10) wrote this review on September 23, 2012:

Pieces is pure freak show exploitation, with an advertising campaign that sells the movie like a huckstering carnival barker. \"You Don\'t Have To Go To Texas For A Chainsaw Massacre!\" screams the tagline, and then the movie\'s poster even more bluntly promises \"It\'s Exactly What You Think It Is!\" The clear implication is that Pieces offers all the bad dialog, gratuitous nudity, and graphic violence you\'re looking for, all in one convenient package.
That package mostly delivers, and it does so with a charming lack of pretense. Director Juan Piquer Simon knew what he was making here and doesn\'t let a sense of decorum get in the way. Legend has it that during filming an actress actually lost control of her bladder during one take when a functioning prop chainsaw strayed dangerously near. That shot made it into the film\'s final cut, a testament to the aesthetic of tacky, unrefined showmanship that makes Pieces great.
Director Simon once stated, \"I don\'t know anyone who says \'I\'m going to make a bad movie.\' Nor do I know anyone who says \'I\'m going to make a work of art\' and makes it.\" Somehow, Pieces manages to be both bad movie and work of art at the same time. The Texas Chainsaw Massacre may be the undisputed masterpiece, but Pieces earns its place in the chainsaw movie pantheon by being devoid of delusions of grandeur and simply delivering what it promises. It truly is exactly what you think it is.


| | |
| --- | --- |
| Video Rating: | |
| Audio Rating: | |
| Extras Rating: | |
| Movie Rating: | |
| Overall Rating: | |


Do you agree with this review?
The movie information on this page was generously updated by:
* Monte723 (Added movie on September 29, 2005)
* brandonearly (Updated movie on September 23, 2012)

The disc information on this page was generously updated by:
* SirDonk (Added disc on October 21, 2008)
* brandonearly (Updated disc on September 23, 2012)