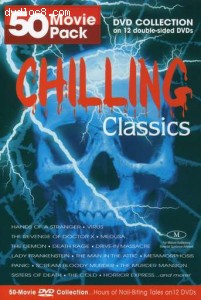 Audio Track(s):




Subtitle Track(s): None Available



Custom lists containing this disc:

brandonearly's "Collections" List















Synopsis: Chilling Classics is a 50-Movie DVD collection. It's comprised of hours of nail-biting tales on 12 DVDs. Movies included: The Alpha Incident, Bad Taste, Bell From Hell, The Blancheville Monster, The Bloody Brood, A Bucket Of Blood, Cathy's Curse, The Cold, Death Rage, Deep Red, The Demon, The Demons Of Ludlow, Devil Times Five, The Devil's Hand, Dr. Tarr's Torture Dungeon, The Driller Killer, Drive-In Massacre, Funeral Home, The Ghost, Gothic, Hands Of A Stranger, Haunts, Horror Express, Horrors Of Spider Island, The House Of The Dead, I Bury The Living, I Eat Your Skin, Jesse James Meets Frankenstein's Daughter, Lady Frankenstein, The Legend Of Bigfoot, The Man In The Attic, Medusa, Messiah Of Evil, Metamorphosis, The Murder Mansion, Naked Massacre, Oasis Of The Zombies, Panic, A Passenger To Bali, The Revenge Of Dr. X, Scream Bloody Murder, Shock, Silent Night Bloody Night, Sisters Of Death, Slashed Dreams, Snowbeast, Track Of The Moon Beast, War Of The Robots, Werewolf In A Girl's Dormitory, The Witch's Mountain

User Rating: No votes have been recorded (Be the first to submit a rating)





There are no other editions of this movie in the current region (region 1).
There are no other editions of this movie in other regions.






1:
Double Sided, Dual Layer
2:
Double Sided, Dual Layer
3:
Double Sided, Dual Layer
4:
Double Sided, Dual Layer
5:
Double Sided, Dual Layer
6:
Double Sided, Dual Layer
7:
Double Sided, Dual Layer
8:
Double Sided, Dual Layer
9:
Double Sided, Dual Layer
10:
Double Sided, Dual Layer
11:
Double Sided, Dual Layer
12:
Double Sided, Dual Layer
1:
English


None Available











The movie information on this page was generously updated by:
* brandonearly (Added movie on September 20, 2012)
* brandonearly (Updated movie on September 28, 2012)


The disc information on this page was generously updated by:
* brandonearly (Added disc on September 23, 2012)