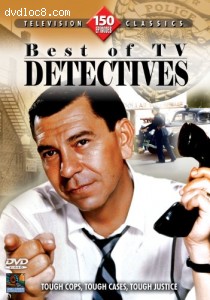 Audio Track(s):




Subtitle Track(s):



text list of languages below
hover mouse over flags to see language names



















Synopsis: Available for the first time, 150 complete episodes from 34 exciting television detectives series of the 1950's and 1970's. You will be delighted and amazed by such thrilling programs as Dragnet, Alfred Hitchcock Presents, Mannix, Burke's Law, Dick Tracy, Gangbusters, Mr. & Mrs. North, Racket Squad and Richard Diamond: Private Eye. Featuring popular television stars such as Mike Connors, Jack Webb, Doug McClure, Ralph Byrd, Richard Crane, David Janssen, Richard Denning and Charles Bronson, who came into your homes each week bringing you exciting tales of lawlessness and the men who fought it. You will have hours of enjoyment watching these classic crime fighters in action!

User Rating: No votes have been recorded (Be the first to submit a rating)





There are no other editions of this movie in the current region (region 1).
There are no other editions of this movie in other regions.






1:
Single Sided, Dual Layer
2:
Single Sided, Dual Layer
3:
Single Sided, Dual Layer
4:
Single Sided, Dual Layer
5:
Single Sided, Dual Layer
6:
Single Sided, Dual Layer
7:
Single Sided, Dual Layer
8:
Single Sided, Dual Layer
9:
Single Sided, Dual Layer
10:
Single Sided, Dual Layer
11:
Single Sided, Dual Layer
12:
Single Sided, Dual Layer
1:
English


English









The movie information on this page was generously updated by:
* SirDonk (Added movie on June 24, 2007)


The disc information on this page was generously updated by:
* SirDonk (Added disc on June 24, 2007)